Company profile
> HSEQ Management System
In order to accomplish the business targets, Constanta Shipyard is operating in an Integrated Management System: Quality, Environment, Occupational Health and Safety, certified in accordance with ISO 9001: 2015, ISO 14001: 2015 and ISO 45001: 2018, by the DNV-GL certification organism.

The last recertification, in accordance with: ISO 9001: 2015 and ISO 14001: 2015 was obtained on 25.04.2019, valid until 25.04.2022.

Constanta Shipyard obtained the OMCAS certificate on 28.05.2018, valid until 28.05.2020, with the NATO Standard - AQAP 2110: 2016, for maintaining and developing the Romanian Naval Forces collaboration and the position of principal contractor.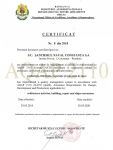 The supervisors from the Classification Society inspect and verify as an independent party that guarantees the vessels' building, strictly in accordance with the rules of the quality standards, and regulations, referred to in the contract signed with Constanta Shipyard.

Constanta Shipyard is fully aware of the crucial importance of customer satisfaction for the development and success on the international shipbuilding market. Consequently, the policy's goal is to provide products and services that meet or exceed customer expectations in terms of quality, safety, performance and environmental protection during the operation.

A permanent task of our company is to ensure that offered products and services are delivered on the agreed time schedule and complying with the statutory requirements and international fabrication standards; the customers' satisfaction is monitored on a regularly basis through specific procedures aiming to optimize our activity, from the design stage until delivery of the final product, covering also the warranty period.