Ship buildings
> Production facilities
Over 25 million USD investments were allocated to SNC for 2003 up to date, for the extensive modernization of the production facilities and the infrastructure.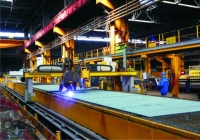 Cutting equipment machines and plant
1 x plasma cutting machine (O2, N2, 2 burners) ESAB Numorex NXB 8000
1 x oxy-gas cutting machine (cutting length / width / thickness: 12,000 / 6,000 / 5-130 mm) ESAB Suprarex SXE P3
ESAB Suprarex SXE P2 550 cutting machine
3 x oxyacetylene cutting machines with numerical control
2 x oxyacetylene cutting machines for flatbars min. 80mm
1 x cutting machine for elliptical cutouts
1 x cutting machine and parallel oxyacetylene
2 x protable gas cutting machines
185 x complete oxyacetylene cutting sets
shape cutting machine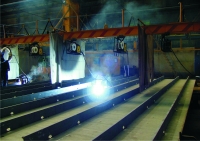 Welding equipment and welding methods
1 x ESAB plane section line for butt and T-welding (panel max.:16 x 24 m; 122t; thickness 8-40 mm). Method: Submerged arc automatic welding with 1-3 wire.
1 x composite profile manufacturing lines (profile I, T, L, H, core thickness = 6 – 35 mm, length = 2000-12,000 mm). Method: Submerged arc automatic welding
8 x Multitrac A2 with PEH processor submerged arc machine welding equipment
530 x MIG/MAG - semi-mechanized welding equipment ESAB in gas-shield arc welding
10 x Miggytrac 200 – ESAB automatic welding tractor for MIG/MAG welding on horizontal position
2 x Weldycar – SAF automatic welding tractor for MIG/MAG welding on position
2 x Railtrac F 1000 – ESAB automatic welding tractor for MIG/MAG welding on position
2 x Invertors for semi-automatic welding Lincon Electric for pipes
16 x Invertors for manual welding with covered electrode Fronius
46 x Rectifier for manual welding with covered electrode ESAB
4 x TIG welding equipments ESAB
Total capacity of steel processing : 80,000 to/year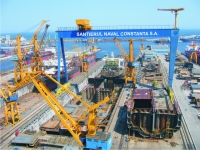 Lifting equipment
2 x frame crane 480 ft
4 x gantry crane 120 ft
4 x gantry crane 50 ft
6 x gantry crane 16 ft
5 x gantry crane 15 ft
1 x gantry crane 12.5 FT
1 x gantry crane 10 ft
1 travelling crane 120 ft
6 bridges 80/20 ft
2 bridges 32 ft + 32 ft
6 bridges with electromagnets 20 ft
4 bridges 32 ft
2 bridges 20 ft;
1 semi-gantry crane 32 ft
volume workshop gauge max. 12x2 m
1 trailer truck 200 t
transfer lorry 40 t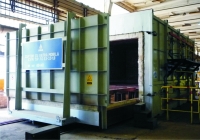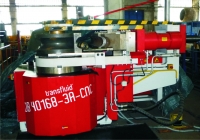 Machining equipment and tools
press 640 tf: for laminated and welded profiles
press 1,000 tf: for steel plates
press 2,000 tf: for bending, rolling, corrugating of steel plates
guillotine: 3 – 18 mm
Piping equipment
cutting and calibrating machines
bending machines (including ND 50 mm)
pipe cleaning oven with multiple hearth furnance
Investment programs
An investment program has already been implemented and more than US$ 15 million were spent in upgrading the existing shot-blasting and priming equipment (including new preheating furnace and painting machine), acquisition of new screw air compressors for the yard's compressed air network, cherry-pickers, a brand new blasting and painting work-shop, acquisition of equipment for piping workshop and welding, and many other.

Another investments are under way and more than US$ 2,5 million will be designated for the aquisition of various equipment, in order to upgrade out existing workshops and for new softwares for the Design Department, as well as for the implementation of a reliable resource planning system. ERP (Enterprise Resource Planning) is to integrate the softwares used by all Departments as well as the existing systems based on Autocad, Tribon and Primavera Enterprise applications.